TikTok has captured the world by storm, and this continues to expand dramatically and until or unless users replay it several times over, the app won't be losing its charm. The extremely known social media app has become a big mainstream choice for both teenagers and adults respectively. It's become so popular that virtually everyone looks at their marketing strategy to create a similar app that will target millions of users across the world.
Social media seems to be an immensely important element of life. Our lives have been influenced by popular social media applications, from communicating with different people all over the world to being used as an entertainment. We've got Twitter, Facebook, Instagram and applications to connect with friends and post articles about our lives. Furthermore, for our amusement, we have YouTube, Netflix and apps to stream videos and movies anytime, anywhere.
However, today, entertainment has improved and shifted to a new phase with apps like TikTok. TikTok has certainly developed a great deal of fan base and users. And that would be a prime reason why building a startup is becoming a decent bet.
What is TikTok and what does it actually do?
The app essentially brings music, videos, and tunes that are presently popular in the market to the users. Users can sync with it for making videos, twirling and dancing to songs, adding effects, adding filters, and doing all sorts of imaginative acts to make their video better than others. In addition, TikTok serves as an efficient forum for communicating with others as you get to share your videos and explore the ones added by others. A simple process is to build your own video after installing the app. Also if you're new to the app, in just a few days you can end up with clever and interesting videos and become famous among the populace.
The features that actually popularized the app in no time were:
Social Media sharing
High-speed image capture
Music Video Broadcast
Top-notch filters and effects
A Music library with daily picks from the editor
How can you actually make money from an app like TikTok?
Isn't that the first thing that pops into every entrepreneur's head?
If you plan on developing an app similar to TikTok then we're here to give you some sneak peaks on how the app actually earns so much money. There are quite a few smart ways in earning revenue from apps like TikTok. Some are:
Mobile App Advertising:
Most apps opt for showing advertisements of similarly based services and even products. There are quite a few varieties of ads you can choose from, such as cost per install ads, cost per click advertising, cost per search ads, etc. Guess what, the exciting part is that numerous major companies will target the audiences based on age group, gender and the popularity in your app.
Freemium or In-App Purchases:
The freemium version simply means that a user needs to pay a small price for upgrading their account. Of course there will be a free version of the app available as well to users however, a user needs to upgrade their account to get their hands on better features and functionalities.
Fundraising:
Fundraising has become a pretty good option for startup apps.
Did you know that the Tiktok app recently acquired funding from its investors for a $100 million? That's right! All you have to do is find an investor and this can open doors to at least receive a small amount to start your business.
The Key To A Successful App Is Its Top-Notch Features!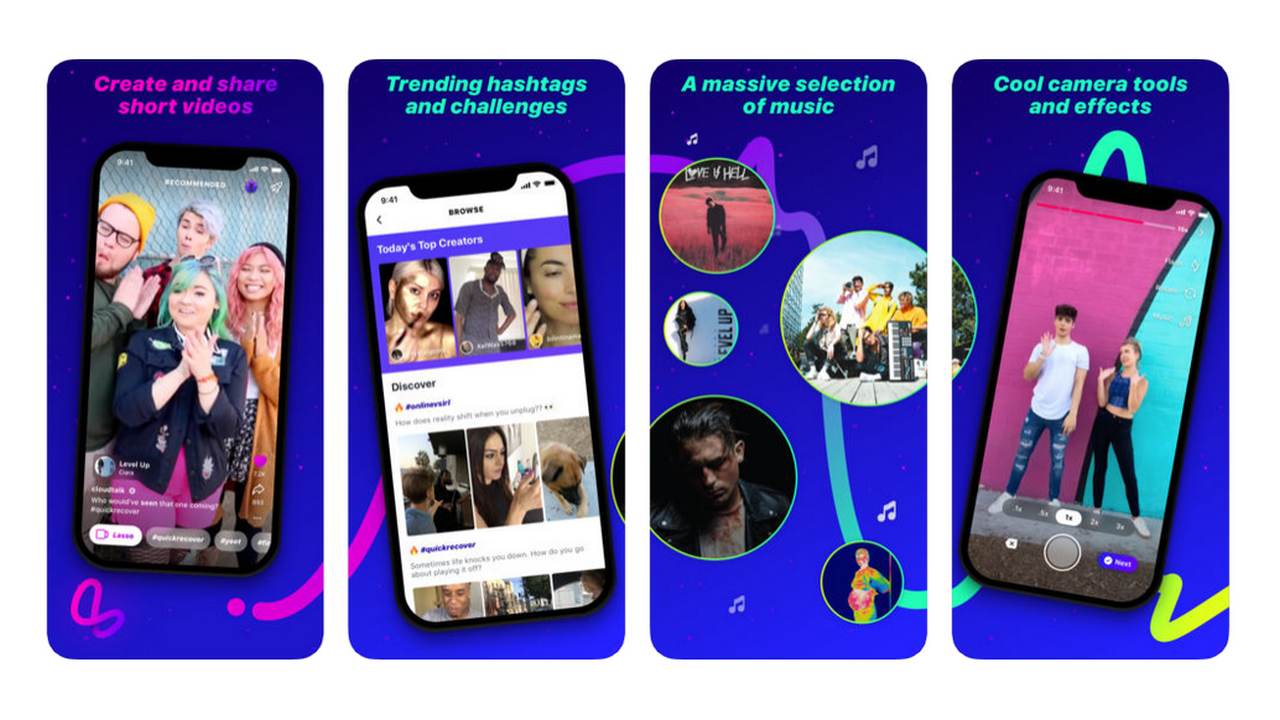 Like any other app, TikTok also comes with 2 types of features. Basic & Advanced. These are some exciting and must-have features that you, too, should also consider when creating your musical app.
Simple UI and App navigation:
Post a successful sign up and login and you enter into the application, you will find all the trending videos. Just by scrolling your screen you can view each one of them. Follow your friends and even adjust the screen in such a way that you can easily watch their videos or of those you are following. The app is designed to ease access and use.
Video Uploading:
The feature is quite obvious. TikTok has a video upload feature which allows users to upload their own videos to the app. Besides working on the trendsetting music and sounds, the users can also use their own voice to create a unique video.
Video Editing:
Users can rotate, flip and crop their uploaded videos. Innovatively they can also take advantage of the playback speed. From video recording, adding a background music to choosing a song to lip-sync or dance to from an enormous music library, such features are what made TikTok capture a lot of fame.
Filters And Effects:
The video editor includes a lot of filters and effects, too. Among others, there's the popular "Beauty" filter and dozens of stickers and animations to enrich video content. One of its most fun effects are AR effects that allow TikTokers to change their eye and hair color and add different virtual items like sunglasses, masks, flowers, bunny ears and more to their faces.
Commenting and Hearts:
The hearts are the benchmark for the videos' fame. The more hearts you acquire, the more viral you and your videos get. At this stage it must be said that some folks just through TikTok have become public figures. So if you've enjoyed a video and would really like to save it, just give it a heart and you'll find the video in your profile.
Social Sharing:
There's no point coming up with a stunning video concept with all your initiatives just to learn you can't share it. TikTok recognizes that well and so it tends to come up with a method for sharing. This feature can be easily used and the app can be posted on Facebook, Instagram, Twitter , Whatsapp, and even gmail.
Duets:
Duets is one of TikTok's most famous features. It allows users to lip-sync or dance to their preferred music with another app user by means of appearing side-by-side on the same screen. It can be a friend, a totally random person, or even a celebrity.
Hashtags:
TikTok hashtags aren't your regular hashtags that we've known for so long. These aim to tag users and challenge them to different competitions, such as the Duet competitions, rather than showcasing what's happening. Yet it totally is not always about duets.
One of the most famous TikTok phenomena, for example, was the "Fake Plane Challenge," where users posted pictures pretending to be on the air.
Points To Remember When Developing an App Similar To TikTok
Find Your Target Audience:
To understand them better, you need to know more about your target audiences and create a solution that will fit their needs. Figure out their age range, geolocation, what type of devices (platform and operating systems) they use, and how reliable their internet connectivity is.
Moreover, learn about their role on app security, user interface, app efficiency and anything comparable that would affect the urge of your targeted customers to use your app.
Find A Reliable Team That Can Help Create The App:
You need a team of professionals with considerable expertise in developing mobile applications. Your developers can easily, greatly impact your app, and you need to be sure that you recruit the best developers.
If you don't have the suitable in-house application developers, you still can outsource them. Outsourcing is significantly more cost-effective and can help you identify extraordinary talent that can build a solid musical application.
Be sure that the team thoroughly understands your target audience, business model and goals as well as your strategies for monetization. During the project's strategic planning, assemble the app developers and other partners to plan the product model, concur on functionality and user functions, determine the development framework and set a budget.
Construct A Perfect Design:
Be sure you focus on your functionality testing while planning your application design, so you can give your potential users an easy-to-use application and reward them with a fantastic experience.
Your app must include a user-friendly and elegant interface, which should be absolutely clutter-free. This should be both visually pleasing and practical, which will compel users to both download and continue using your app.
Release & Marketing Activities:
Before launching the app, make sure that you optimize it for the marketplace / s platform where you will be publishing it. Include an engaging overview that can clarify precisely what the application is like and how it will be used by users, as well as expose them to the key features. Ensure the app's impressive screenshots, the appropriate keywords in the title tag and, of course, a fun logo are available.
But how do people get to know your newly launched app? You have to market it on your website and social media to advertise it on a routine basis. Include also screenshots and ties to the marketplace / s where users can download it. You could also include paid ads, including Google Ads. Paid ads will help you achieve a much higher number of successful leads who are associated in your musical application.
Conclusion – Get Started With Your App Right Away!
Finding the cost of developing a similar app is sure to intrigue you. Say you ought to consider multiple factors that lead to expenses such as the functionalities in the app, the technology used, and the infrastructure you use to endorse you with an app like TikTok. With this knowledge, you'll get a rough idea of the cost of developing the app, but it could still fluctuate based on the mobile app development platform you choose for your project as well as the unique features you're planning to additionally add into the app.
Being a popular app, the industry is facing fierce competition. It's not that hard to build an app like TikTok if you've read this article and follow our suggestions. Choose from the best mobile app developers to handle all the technological challenges, but see to it that you know what your audience wants first. The best way to build a musical app they can completely fall in love with is to dive deep into their expectations and perceptions.